Benefits of Membership in the 8a Association
For over 20 years the El Paso 8(a) & Government Contractors Association has been dedicated to promoting the development of businesses, by increasing procurement and business opportunities with the Federal, State, City government as well as Prime Contractors and Large Corporations
Membership in the Association is open to all government (add) and non-government contractors, including 8(a), Small Disadvantaged Businesses, Woman-Owned, Minority-Owned, Federal and State HUB, and Service-Disabled Veterans that sell their products and services to large institutional buyers.
Membership is also open to large businesses, business associates, small and small minority business organizations interested and involved in fostering the development of minority businesses to further the goals of the Association.General Membership meetings are held at the El Paso Hispanic Chamber of Commerce, 2401 E. Missouri Ave.
Over the last year, the Association has made great strides toward ensuring the continuation of our vision, which is to continue to encourage and promote the success of our members while also maintaining a strong voice with our federal agencies, prime contractors, and legislators.
The El Paso 8(a) & Government Contractors Association commits to:
Advocating on behalf of its members.

Building Member capacity through education.

Providing access to viable business opportunities.

Facilitating relationships with key partners.

Continue to be recognized as a key partner in contracting.
Your Membership Investment
____ $150.00 Associate Member-Any non-contractor business.
____ $200.00 General Member-Any Government Contractor.
____ $300.00 Corporate Member-Local corporate partners.
But we need your commitment as well, in order for the El Paso 8(a) & Government Contractors Association to remain the influential and effective Association that it is. As a member you receive the following benefits:
Inclusion in El Paso 8(a) & Government Contractors Directory!

Access to members-only Business Xpress Sessions. These sessions bring the procurement officers to you to meet and share your capabilities with.

Informative monthly sessions, training events, and expos!

An opportunity to be involved in Legislative advocacy that affects your business.

A link to the El Paso 8(a) and Government Contractors website.

Notification of Invitations to Bid from various agencies.

Access to 8(a) and National 8(a) members-only events.
8(a) & Gov. Contractors Association 2023 Goals/Initiatives
Dear 8a Association Members,
My hope and wish of being the President of the 8a board during 2023, is to not only provide help to the Owners already in this current association but to expand and extend our services to future Owners of organizations, and to the future generation of students that one day will be the workforce. As what is stated in our mission, by mentoring the future Owners of organizations, we get to impart our knowledge and assist them by avoiding the same mistakes, and perhaps the same headaches, that we went through when starting, operating, and finding business opportunities in our organizations. It is my hope that through partnering with local institutions and by spreading the positive reputation of the 8a to this younger generation, we get to leave El Paso a successful place and City by providing our services to Federal, State, Local Government, Commercial and Residential entities for years to come.
The board and I have an action-packed year planned ahead for you. It includes, among others, FACE TO FACE SUPPORT AND INFORMAL MENTORING, OPPORTUNITY TO absorb lessons learned FROM SUCCESSFUL Contractors (8a or 8a Graduated, WOBS, VA, DVA, HUB Federal/State, DOT, a large variety of Team members ready to help and learn from each other). Below our summary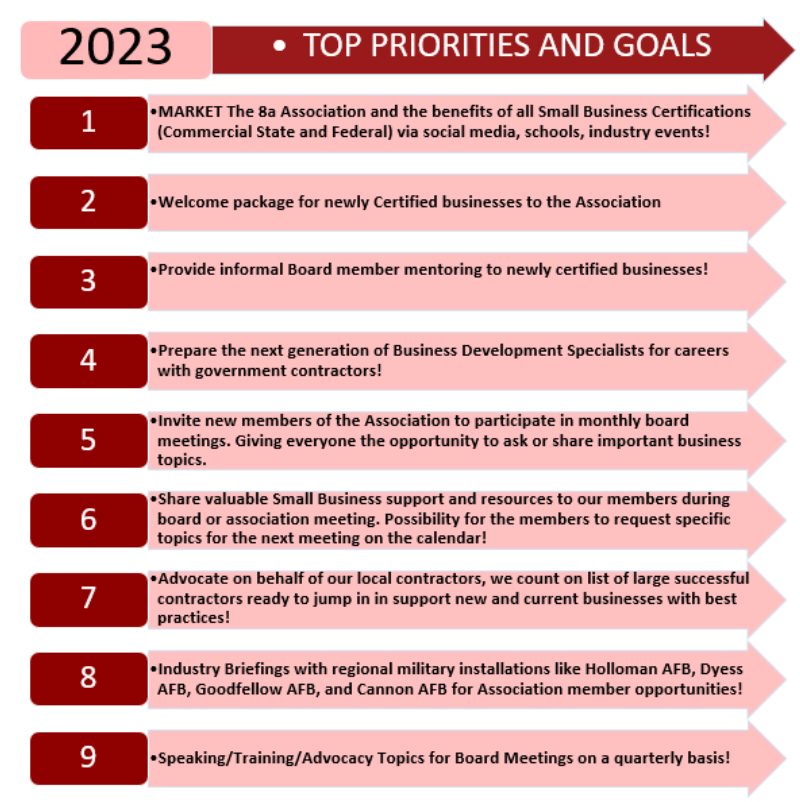 If you are not ❌able to participate personally, please take full use of the benefits ✔ of your membership with our Association and invite one of your business Associates to join us.
As the new 2023 President of the Association, I would like TO ASK YOU  to renew or get your membership, here more details: https://www.ep8agovcontractors.com
We all as an Association are here to SERVE YOU!!!!
As the 2023 President of the El Paso 8a & Government Contractors Association, I look forward to working together with you for the betterment of our community.
I would like to thank the board in giving me this opportunity.
God Bless you all – MERRY CHRISTMAS AND HAPPY NEW YEAR!
Sincerely,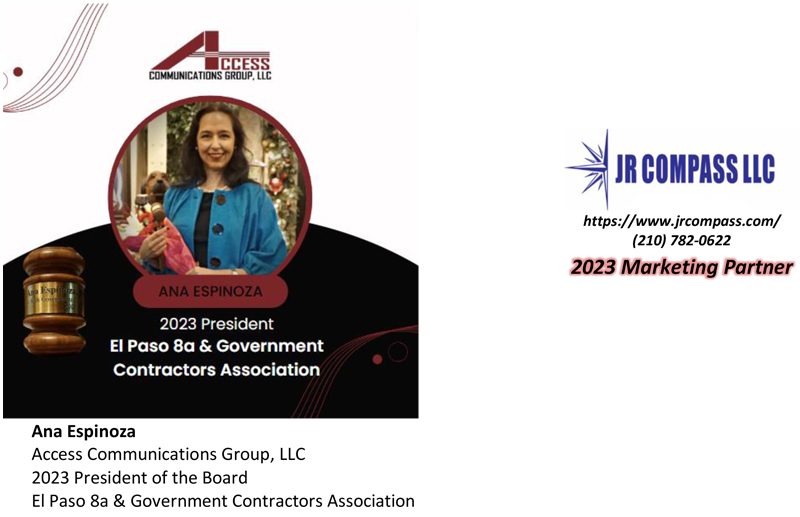 My involvement with the El Paso 8A and Government Contractors Association has been very constructive and inspirational as this Associations strives to provide its members all the tools and education it can access nationwide. This past year, there were very good presenters from all over the United States which gave me a member a well-rounded overview of how to work with the government successfully.
MICHAEL J. WHITE
CPA - Carr, Riggs & Ingram

Our business has come a long way since we first became members of the association. We went from knowing very little about the 8(a) Program to successfully obtaining our 8(a) Certification within two years of membership. The accumulated knowledge of the association as a whole has amply prepared us and given us the confidence we need to work with the federal government.
MICHAEL SAMBRANO
Co-Founder & CEO - Gracen Engineering & Construction, Inc.